Contact Us Today
Take the next step to discover an improved and enhanced version of yourself. Contact us to set up your personalized consultation with Dr. Dickinson. His experience and passionate approach draw patients from all over the country to his practice in Newport Beach, California. Our friendly staff speaks Vietnamese, Chinese and Spanish.
Above or Below the Muscle
There are two planes that the implant can be placed. The implant can be placed above the muscle or below the muscle. Either location is fine. What usually determines whether we put the implant above or below the muscle is how thin the patient is in the upper pole of the breast. In very thin patients who may want a larger implants, the implant is best placed below the muscle. In a patient who has more breast tissue or greater soft tissue coverage the implant can be placed above the muscle. Silicone implants tend to be more forgiving above the muscle in terms of rippling than saline implants.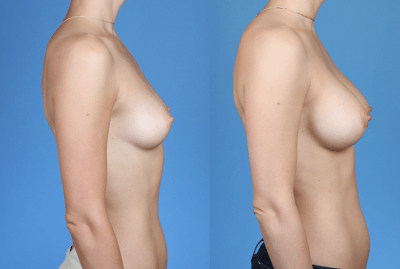 Incision Choice
There are four different access points for placing a breast implant. The implant can be placed through the armpit (axillae), through the areola, through the breast crease (inframammary fold), or with saline the implant can be placed the belly button (umbilicus). There are several advantages and occasional limitations to each incision.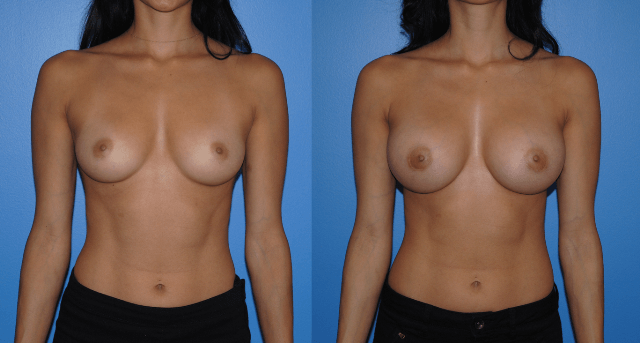 Selecting Your Type of Implant
There are two different types of implants, saline and silicone. The outer shell of either implant is exactly the same, it is a silicone elastomer. So whether you have saline or silicone implants, you have a silicone shell in your body. What differs is what goes on the inside. The saline implants are filled with saline in the operating room, the silicone implants are pre-filled with a certain volume.
In general, silicone is lighter, it is softer, and it feels more natural. It tends to ripple less. Both saline and silicone implants can ripple it is just that silicone implants ripple less. The specifics of the different types of implants will be discussed in your consultation.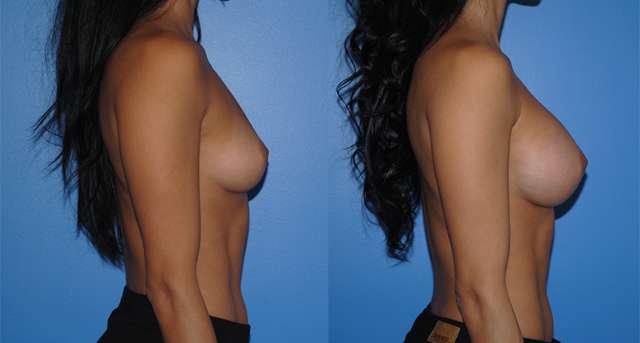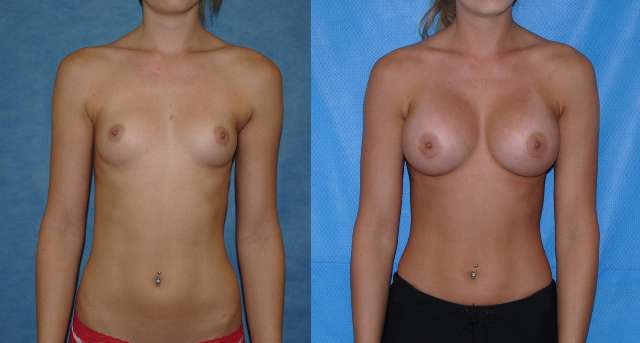 Size of Implant and Profile of Implant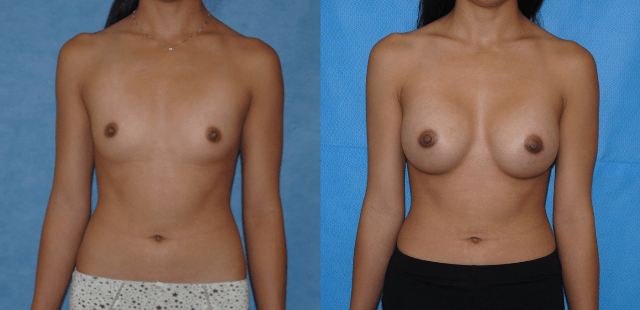 Every woman has a unique physical build and desired appearance. The Professional who would like a subtle increase in size. The Runway Model who must work within the limitations that the agency allows. The fitness model or elite athlete who wants to complete their curves.
The sizing for breast augmentation tends to be the area where we spend the most time for breast augmentation. In the mid-portion of the consultation, we spend time measuring the chest wall diameter and then the base diameter and cup measurements of the breast. This gives us a similar ground of breast augmentation size to have a discussion on where to go in terms of size.
We ask that you bring a sports bra to the consultation without padding. During the consultation we will place different sizers within your sports bra to give you and us an idea of how your augmentation will appear and to help us determined the size implant that you want to select.
Breast implants come in different profiles. The implant profiles can be described as low, moderate, or high. The implant profiles most commonly selected are moderate and high. The different profiles of implants are usually selected depending upon the volume of augmentation that the patient desires compared to the dimensions of her chest wall.
Show me More Before and After Breast Augmentation Photos

The Breast Augmentation Procedure
The breast augmentation surgery takes about 1.5 hours. Transaxillary breast augmentation takes slightly longer, approximately 2.5 hours. The breast augmentation surgery is an outpatient surgery, and you go home the same day. Most patients feel very functional in just a few days. To achieve the best possible results, it is important to follow post-operative protocols to ensure that healing is optimized.
Prior to Surgery: For 4-6 weeks prior to surgery we would like patients to eat a diet high in protein. Typically, we would like patients to consume 80-100 grams of protein per day. Consuming a diet high in protein can facilitate healing and prevent complications.
Prior to surgery, depending upon your age, we ask that you get either a mammogram, ultrasound, or MRI prior to surgery.
We will send you for laboratory work that includes a CBC, PT/PTT/INR, and Basic Metabolic Panel.
The morning of surgery patients take a medication for nausea called Emend which prevents nausea for 3 days.
Week 1: For the first week after surgery, you are instructed to do only purposeful walking. You may walk to the bathroom, walk to eat dinner, walk to check the mail, etc. The big container of Tide detergent is too heavy. You can lift a gallon of milk, but this is the extent of lifting for the first week.
Week 2: During the second week, you can walk as if you were shopping at the mall. You can walk to the beach or around your neighborhood.
Week 3: You may ride the stationery bike for exercise. No heavy lifting or significant arm motion.
Week 4: You can return to the gym and may do arm exercises such as biceps and triceps. You can do leg press and leg extensions. Do not do any bench press, push ups, or Yoga.
Week 6-8: After 6 weeks you can return to unlimited physical activity.
To download a copy of your post operative instructions for breast augmentation, please click on the following link: BPD MD Breast Procedure Post-op and Medication Instructions. Version- August, 2022 (1)
Some soreness is normal and can often be a guide to limit the amount of post-operative activity. We try our best to perform breast augmentation procedures with minimal bruising, down time, and we try to provide you with the maximum comfort after your procedure. It is important for patients to follow the post-operative protocol to minimize post-operative complications.
Choosing Your Breast Augmentation Surgeon
Breast augmentation procedures comprise a category of surgeries ranging from augmentation, mastopexy or breast lift. Breast implants are mechanical devices that may change over time or fatigue, necessitating removal and replacement. Furthermore, the body may create an aggressive capsule around the implant known as a capsular contracture. It is important to have these changes corrected by a plastic and reconstructive surgeon to optimize the aesthetic outcome.
Common changes that may occur with breast implants or breast procedures include: lack of superior fullness, unnatural movement with chest muscle contraction, synmastia, capsular contracture, implant malposition, and expanded subpectoral pockets. When these changes occur, it is important to select a surgeon who is knowledgeable in the management of these problems.
I am plastic and reconstructive surgeon who has spent over 15 years performing aesthetic and reconstructive surgery of the breast. These procedures have included breast augmentation, breast reduction, mastopexy augmentation, capsular contracture surgery, explantation of implants, and breast cancer reconstruction. I hope as you read this section and the corresponding blogs that you will find information that will be helpful to you and is similar either to the problem you want to correct or the solution you would like to have. My office staff has a significant amount of experience taking care of patients very similar to you and can help answer any questions you may have. Please call 949-612-8632 and make an appointment for consultation, we would be glad to assist and help you.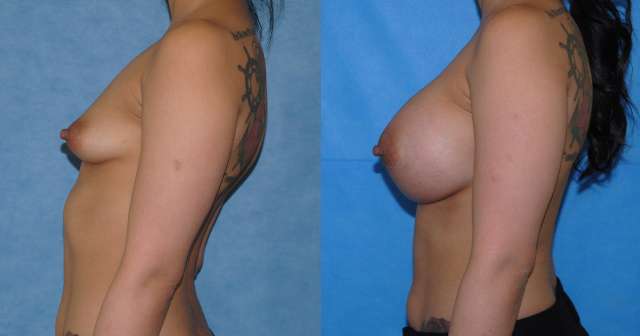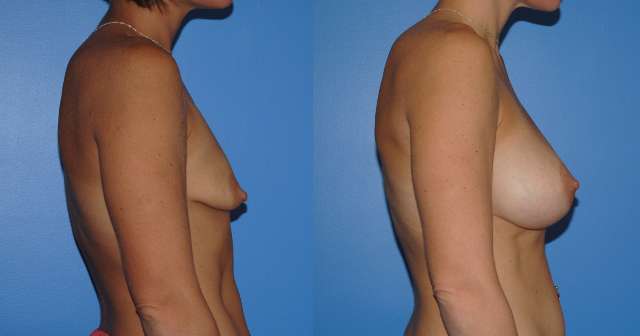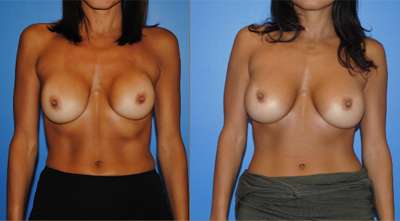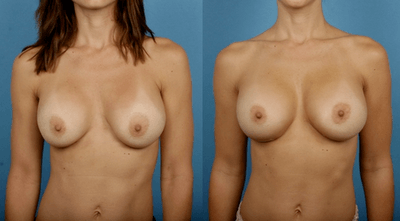 "Every stitch is a stitch of love. I lost both my breasts due to cancer in 2012. After being in remission for more than 5 years I decided to start researching breast reconstruction. My oncologist recommended Dr Dickinson. I started trying to make the correct decision a year ago. He and his staff were patient, caring and always clarifying my questions. On Aug 23 I underwent a Flap reconstruction on both my breasts. Today 9 days later, I feel amazing. So happy that I went ahead with this choice. My whole surgery was impeccably done, Dr Dickinson is a magician. Thank you to him and his whole team."

- Patient

"I had my breast augmentation with Dr. D. He gave me exactly what I wanted. I love my breasts. He is the best. Thank you Dr. D!"

- CDJ

, May 12, 2016

"Dr. D, is an amazing knowledgeable doctor. He answered all my questions and concerns. I am so happy with my breast augmentation, they're perfect. Thank you Dr Dickinson for being there for me, listening to me and giving me exactly what I wanted"

- Kimberly Durant

, April 23, 2016

"He is nice and genuine. I could tell he really cared about my outcome and my experience. I have always thrown up after surgery in the past with other doctors. He gave me medication for nausea before surgery so I would not get sick. It worked. I had my breast augmentation without throwing up. My result is awesome. I could not have asked for a smoother experience."

- Dr. D. is simply great!

, April 4, 2016

"Dr. Dickinson is amazing!!!! He is super funny and really puts your mind at ease. I am three weeks post op breast augmentation. I am 122 pounds and got 425ccs and I love them!!! They look perfect and he was sooo amazing. I don't have any scarring or bruising and very little pain. He is very caring and really cares about his patients. He is also very thorough with explaining the procedure. I will recommend him to everyone I know!!! He is the best."

- Chrissy

, June 18, 2015
More FAQs About Breast Enhancement & Implant Procedures
From the Blog
[dt_sc_post id="4523″ excerpt_length="15″ read_more_text="Read More"/]
[dt_sc_post id="3023″ excerpt_length="15″ read_more_text="Read More"/]
[dt_sc_post id="1234″ excerpt_length="15″ read_more_text="Read More"/]