DIEP flap breast reconstruction is becoming more common. Patients who are seen in consultation for mastectomy often choose to undergo autologous breast reconstruction. Patients who wish to undergo autolgous reconstruction choose to use their own body tissue to reconstruct their breasts.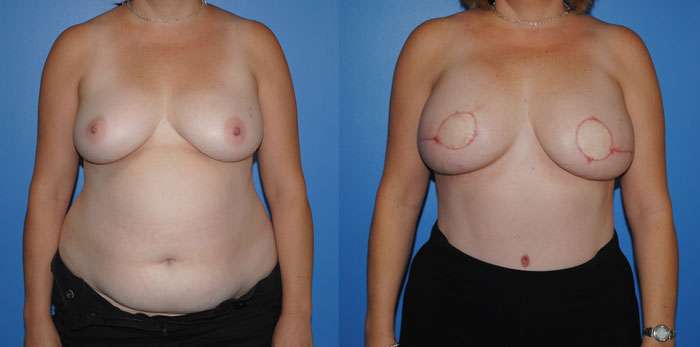 When patients use their own body tissue for reconstruction, it obviates the need for breast implants. Patients may not want implants for personal reasons or would simply rather undergo breast reconstruction with their own tissue.
Patients who undergo autologous reconstruction often like the natural feel of their reconstructed breasts which tend to be softer than implant based breast reconstructions.
In the upper most photograph, the patient is marked pre-operatively for mastectomy. When planning DIEP flap reconstruction, the operative surgeons must pay close attention to the skin paddle design. If there is minimal to no pre-operative breast ptosis, then I prefer to use a periareolar with a lateral horizontal extension. This skin paddle design maintains the native blood supply to the mastectomy skin.
If the patient has a significant amount of pre-operative ptosis then it may be better to use a Wise-pattern skin marking. In order to correct severe breast ptosis, a significant amount of skin needs to be removed from the breast. The best way to manage this is with a Wise-pattern.
The reconstructed breast continues to soften and the scars fade for up to 12 to 18 months post surgery.