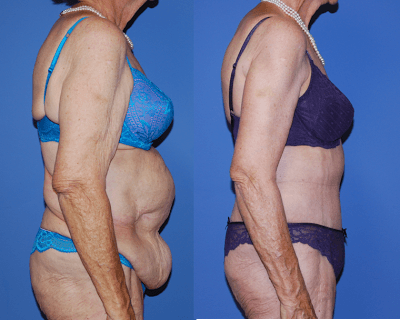 Patients who have undergone weight loss of greater than 100 lbs. either through diet alone or with the assistance of weight loss surgery need to have their body contouring surgeries performed by a well trained team of physicians.
Post-bariatric patients have significant changes in their body musculature and body physiology, in addition to the excess skin which they are unable to remove with additional diet and exercise.
The patient in the before and after photos above lost greater than 100 lbs. of weight through diet and exercise alone. She was unable to remove the excess skin along her arms and abdomen. She underwent bilateral brachioplasty, or "arm tuck" as well as abdominoplasty with reconstruction of her abdominal wall musculature to restore contour.